Real newspapers, real results
Traditional Newspaper (Print) monitoring is how Newz Group got its start and is our specialty. Rather than using online newspaper sources, all the content we monitor is sourced from actual newspapers. This allows our clients to get content from press association member newspapers in a state, even if they have little to no online presence.
Newz Group has partnerships with press associations across America, giving us sole monitoring access to thousands of newspapers.
Print Monitoring is a digital press clipping service giving you the ability to utilize keywords and other advanced search methods to follow relevant information circulating in the media. Rather than digging through cumbersome paper clippings, all content is digital, allowing you to share, download and analyze your newspaper mentions.
Why Newz Group Newspaper Monitoring?
The print content Newz Group receives is distributed under license granted by publishers and press associations. Because of this, we are able to deliver content to our clients that is not always readily available online, especially for small, local sources. Newz Clips is offered without keyword, topic, or location sourcing limits – making your monitoring highly customizable.
How is content delivered?
In the early years of Newz Group's press clipping service, newspaper clips were printed out and mailed to clients. We've come a long way, and for the past 15 years our clients have enjoyed the convenience of receiving their clips via email and our client portal, Newz Room.
Newz Room is Newz Group's original media monitoring platform. Not only can you view, organize, and share your newspaper mentions, but you can also track what is being said about you online and on social media. Receive daily alerts, weekly analytic summaries of your coverage, and a dashboard to manage your news and graphs through this platform.
Built for the professional who needs to know what is being said in local communities, this platform helps support your work and keeps you informed about local and regional news. One of our goals is to make the hardest-to-find newspaper content very accessible for our clients.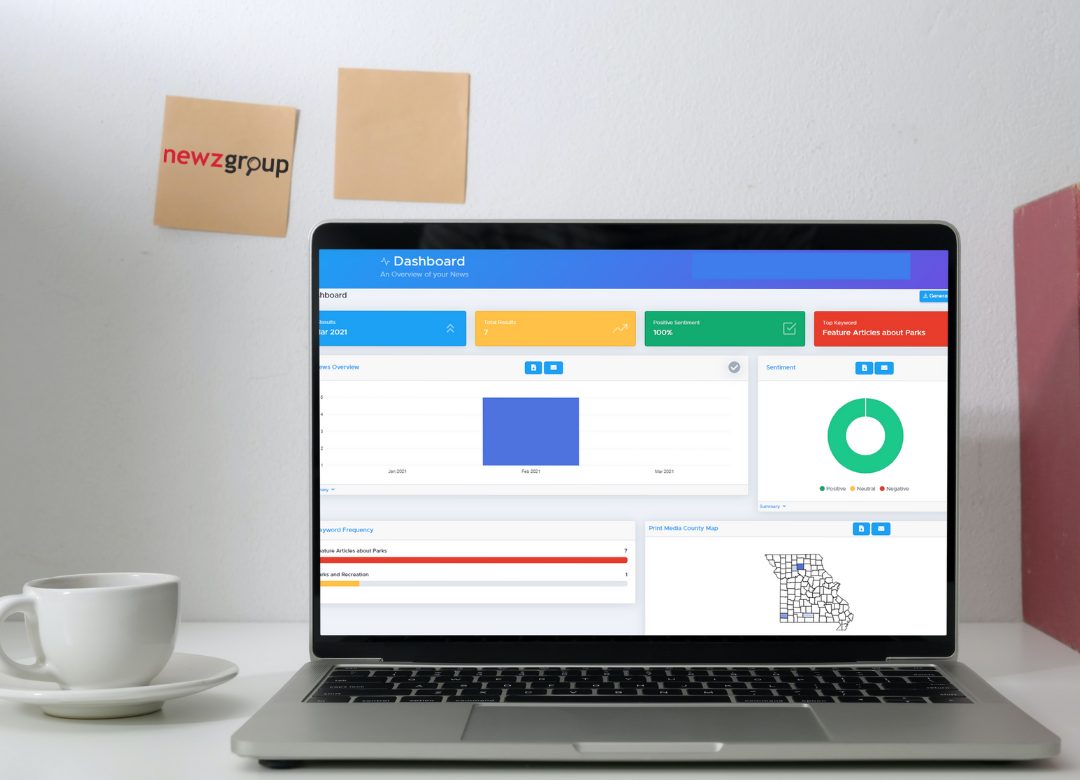 1
Keyword mentions by month
3
Sentiment for all results
4
Mention by county heat map
INTEGRATE MONITORING SERVICES ACROSS MEDIA CHANNELS
Keep track of what is being said on online news & social media in real time. 
Keep your ear to the ground with radio, television, and podcast monitoring.
Need more info? Let's chat!
We would love to hear from you!
Contact us today to learn more about our services and how we can help you find you.