For the communications professional who needs insights beyond the information.
Media Monitoring Platforms for Every Need.
Newz Group does not believe in one size fits all. We know that our clients all have different needs, which is why we offer more than one media monitoring platform.
You can track only the media you need integrated into the platform of your choice. All solutions include analytics to help you understand the impact of your media mentions.
Integrate all your media coverage and data insights in one place with this powerful solution. The News Radar is a media monitoring platform that was designed with the communications professional in mind by being user friendly, customizable and thorough. Receive daily emails with your news, along with access to the News Radar platform, allowing you to view your print, online, social media and broadcast coverage in one convenient and easy-to-use place.
You can also fine-tune your coverage and analytics to your exact needs. With over two hundred analytical options that users can easily customize, as well as multiple clip book creation options, the possibilities are endless on what you can do with your news.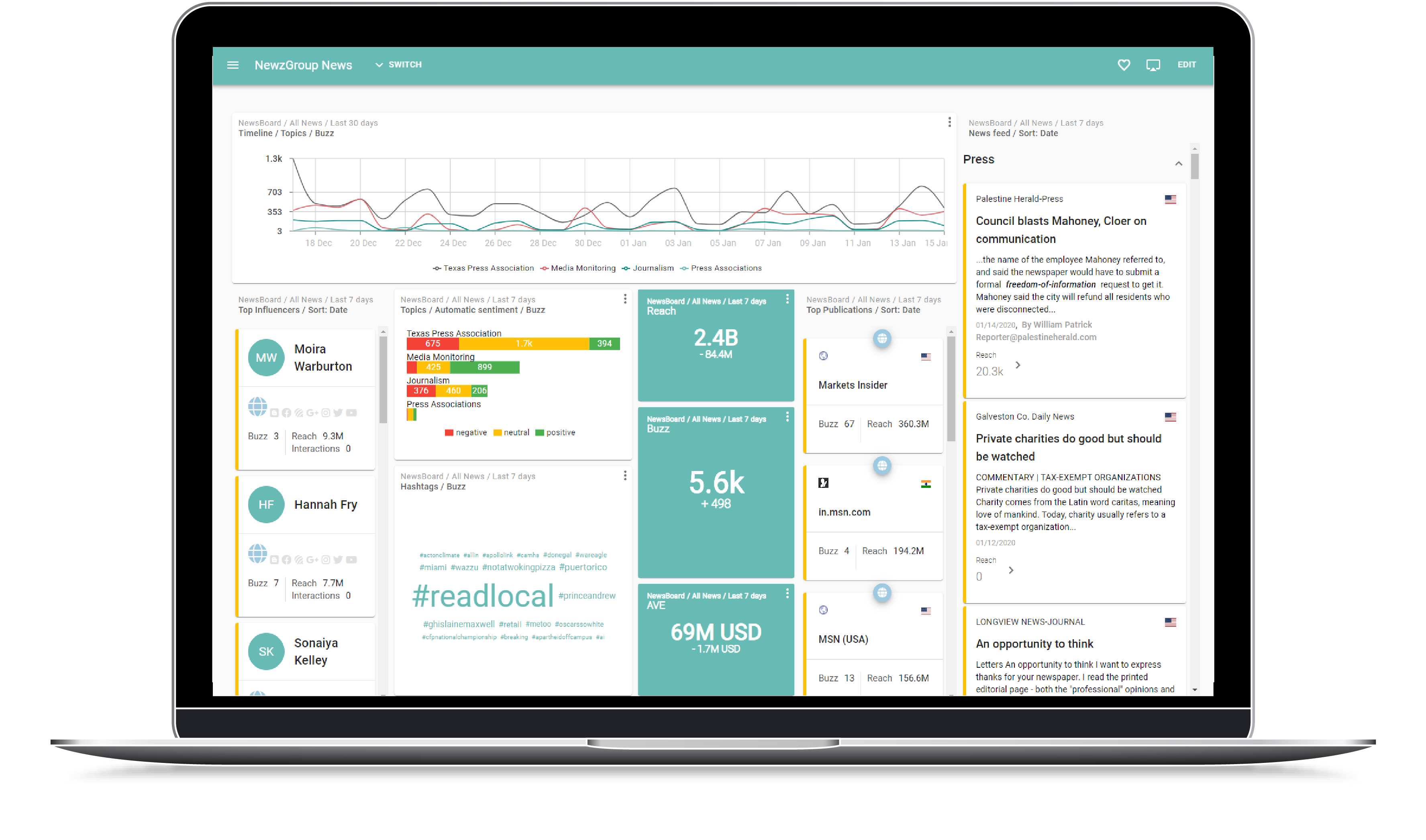 1
Customize your dashboard with over 200 analytic widgets.
2
Analytic visualizations of your data.
3
View the top news articles and your earned media in the dashboard.
Integrate All Your Media
Get all the sources you want – but only the information you need.
Follow local community journalism through newspapers across America.
Track millions of websites, blogs, and news outlets from across the Internet.
Monitor social media to see in real time what is being said.
Receive television and radio segments about your topics in your dashboard.
Want to learn more? Let's chat!
Still need more information to see if this is the right solution for you? We would love to hear from you to learn about your media monitoring goals and how we can help you find you.